Follow These Instructions
Google Drive is a powerful file sharing tool for businesses that use Google Workspace plans. You can access files from your browser or desktop using the Google Drive File Stream app. Sometimes, however you may lose your connection to your local desktop files. Maybe you're working on a document, go to save it to your desktop folder only to find it disconnected or missing. I'm going to show you three ways to solve this problem.
First and most importantly, while Google Drive File Stream is a desktop app, it does work over the internet. If your WiFi or wired connection are not working, that may be the source of your problem. Check your internet connection for a weak or broken connection on your system tray.

Secondly, as Drive File Stream is an executable program, it needs to be running on your computer. Navigate to your system tray to make sure it's running. If you don't see the icon there, simply search for "Drive" and launch the Drive File Stream executable. You'll see the Drive File Stream icon appear, but you may need to click the up arrow on your system tray to confirm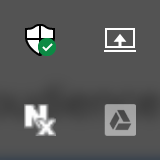 Lastly make sure you are signed into File Stream with your Google account. Certain operating systems, Google updates or password changes can end up signing you out of your Google Drive File Stream instance. Simply click on the grayed out File Stream icon in your system tray. Click sign in and enter your Google credentials
Verifying Drive File Stream is enabled on startup
Lets access a fast way to check. First let's open task manager with ctrl+shift+esc. Next we will click the tab "start up" from there we can see "Google Drive File Stream," the status will say "enabled" or "disabled." If you chose to have on start simply change to enable.